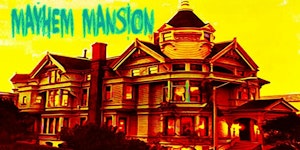 Prepare to be spooked this Halloween at the Mayhem Mansion! Plenty of thrills & scares for ages 8 & up, plus a 'spookeasy' serving beer, wine, & other drinks! More info below.
FREE San Francisco: Subscribe to our email newsletter of San Francisco events, festivals, specials, & GIVEAWAYS!
—————-
Related Events and Info:
—————————-
2015 Mayhem Mansion Info:
2015 Mayhem Mansion
October 23&24, 30&31, 7:30-10PM | $10-15
The Haas-Lilienthal House
More info: sfhertitage.org
A tour guide leads small groups through Mayhem Mansion, where the inhabitants have been indefinitely quarantined for a mysterious malady. One thing's for sure, their presence is infectious and they're hungry for a taste of the outside world! The tour ends beneath the stairs, in the "Spookeasy".
The "Spookeasy", accessible during event hours through a separate outside entrance, will feature a cash bar serving beer, wine and specialty libations. Nonalcoholic beverages will also be offered. Open all four evenings. Visit before and after the tour to calm your nerves, learn more about the House, share your experience, or even compete for a raffle prize!
More info: sfhertitage.org
——————————